Step-by-step guide to create your PayPal account for free
Whindo utilizes PayPal to serve as the payment processor for your event. In effect, your Whindo event website represents a ticket "shopping cart" that feeds sales directly into your PayPal account allowing funds to be immediately available directly to you while sheilding your financial information from both Whindo and your attendees. In addition, PayPal provides advanced fraud prevention and cost-effective service fees:
Below we have outlined a step-by-step tutorial on setting up a PayPal account and enabling your account to receive payments from your event website.
| | |
| --- | --- |
| | To begin simply visit https://www.paypal.com. To create your account click the Sign Up link at the top of the page. |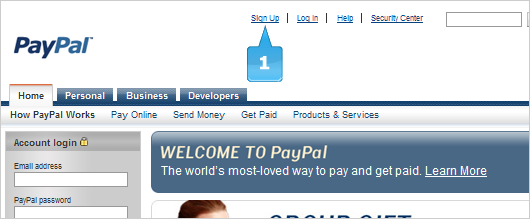 | | |
| --- | --- |
| | You will be accepting funds from ticket buyers so you need to select a Premier or Business account. If you already have a Personal account you can upgrade to a Premier or Business account. Note: Personal accounts do not permit you to accept payments and as such are not compatible with the Whindo service. |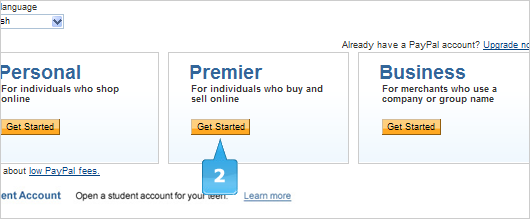 | | |
| --- | --- |
| | Enter your account information and click the Agree and Create Account button. Note: You will need to confirm your email address so be sure to enter the appropriate address. |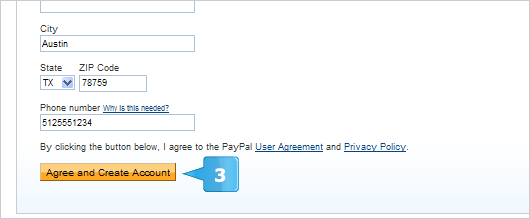 | | |
| --- | --- |
| | Click Go to My Account. |
| | |
| --- | --- |
| | Click Confirm email address and follow the instructions. Note: The email address you have provided for this account will be the same email address you provide Whindo when setting up a new event. This is how Whindo knows where to redirect your registrants during checkout. |
| | Click Add Your Bank Account and follow the instructions. Your bank account information enables PayPal to make ticket sale deposits directly into your account. |
Now when creating a new event with Whindo, simply enter the email address into the PayPal Account Email field.
About Our Store
Our bookstore is the our collection in many years with thousands books in many fields of science, medicine, economy, art and poetry. The sharing makes the better world, we know many people, in many countries, are not enough money to buy a book. By donating a little money for each download, we will make the store bigger and bigger, so we can maintain sharing. Together, the book is cheap enough for any people and any country.
Categories